Alloy Casting Services for the Production of Custom Parts
Our foundry can provide special alloy casting services for your breakdown needs within the fastest turnaround time. Our casting capability is one pound to 1,800 pounds and up to 60 inches in diameter.
We pour a variety of alloys to meet your particular needs, including but not limited to:
Machined Parts
Our full-service machine shop can provide machined parts per the customer's specification or blueprint.
Our custom replacement parts include:
Graphite Impregnated Parts
Bar Stock
We have a large inventory of bar stock in C932 and C954 on the rack for immediate delivery.
Size Range
1/2" ID x 1" OD to 15" ID x 17" OD
1/2" Solid Round to 12"
Solid Round
1" ID x 1-1/2" OD to 8" ID x 10" OD
1/2" Solid Round to 8" Solid Round
Round
We also carry 360 yellow brass round bars.
Product Specifications
These are samples of a few items we can make for you. If you see a part similar to what you are interested in, please call us or complete our form on the home page. Be sure to provide the sizes for your particular part and submit them to us for a quotation. Please remember to fill in your email address so we can reply to your inquiry.
Get A Qoute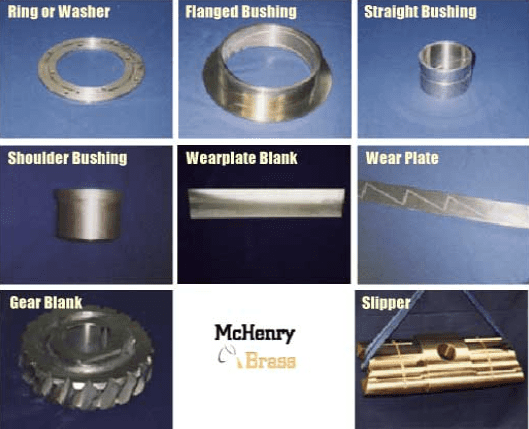 Specialty Items
In addition to our regular line of industrial brass and bronze replacement parts and materials, we also pour some specialty items. Here are a few to show you what else we can do. If you are looking for something special and unique, let us quote it for you.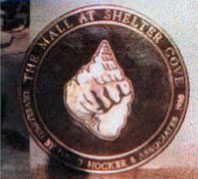 We can cast your logo on custom plaques and specialty items such as this manhole cover made for the mall at Shelter Cove in Hilton Head. You provide the wording and the camera-ready logo, and we will be glad to quote your specialty brass and bronze products.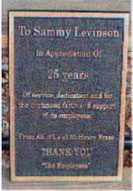 This is a 12" x 18" plaque we presented to our president in honor of his 25 years of service to our company.

We create custom bronze markers that feature your desired image and wording.